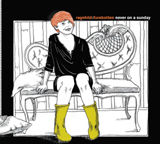 Never on a sunday
TA95 Ragnhild Furebotten
Ragnhild Furebotten er en av de mest spennende nordnorske musikere i dag. Her presenterer hun et spennende samarbeidsprosjekt med nord norske blåsere. Plata vant Spellemannprisen 2012!
Ragnhild Furebotten er ofte å høre på norske radiokanaler med gruppa Hekla Stålstrenger. Nå er det album på gang med Furebottens nye soloprosjekt, der hun har formatert musikken sin for fele og 6 av landets beste jazzblåsere. Under det presise navnet "Never On A Sunday" presenterer Ragnhild Furebotten egne sterke melodier og folkemusikalske skatter fra nord i arrangementer av Helge Sunde og Geir Lysne. Kombinasjonen av lett galskap, nordnorsk esprit og deilig nordisk melankoli har slått an allerede før albumet er nådd butikkhyller og harddisker: Ragnhilds "Never On A Sunday" er blitt invitert til så vel Folkelarm i Oslo som den prestisjetunge verdensmusikkmessa WOMEX i København.


a distinctly personal form of expression and strong innovative elements in her music.
Her interpretations of traditional music from northern Norway, and her own compositions, combined with stellar horn arrangements by two of Norway´s most celebrated jazz composers, make this a truly new musical experience.

Never on a Sunday is fiddler Ragnhild Furebotten´s second solo album, following the acclaimed debut Endelig Vals from 2007. Fiddler Ragnhild Furebotten is known as a solid conveyor of tradition, although with a distinctly personal form of expression and strong innovative elements in her music. Ragnhild Furebotten interprets and conveys the traditions of the northern Norwegian folk music. Apart from being a soloist, she is a popular ensemble musician, playing with top Norwegian bands such as Fotefar and Hekla Stålstrenga.

Ragnhild Furebotten | fiddle
Helge Sunde | trombone
Anders Eriksson | trumpet
Marius Haltli | trumpet
Frode Nymo | saxophones
Geir Lysne | saxophones
Lars Andreas Haug | tuba

Norwegian Music Award 2012 - Spellemannprisen


"There are many ensembles in which great players collaborate but sometimes the heart is missing. This is certainly not the case here. Each individual player contributes as an outstanding individual yet bathed in Ragnhild's own character, and the strong teamwork and communication is easy to hear.... One of the finest ensembles to emerge out of Norwegian tradition for a long time amidst an already impressive roster of artists." Fiona Talkington / BBC Radio 3 - Late Junction; writer - Songlines magazine

http://www.listento.no/mic.nsf/doc/art2011102415532890224765