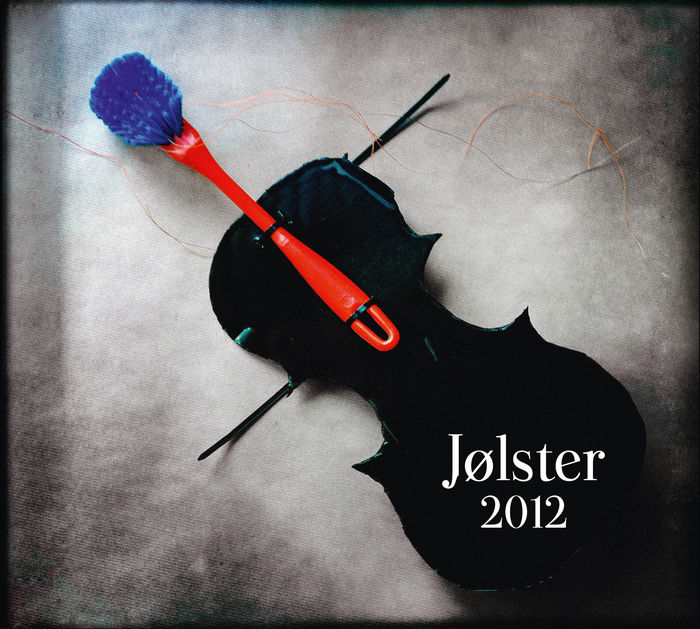 Jølster 2012
TA104CD Eikås, Bjørset, Svidal & Apneseth
Fire av landet sine fremste spelemenn presenterer eigne favorittbitar frå eit noko bortgøymt repertoar. Jølster 2012 er ei samling fargerike slåttar formidla frå hjartet.
Ettertenksam, leikande, frekk og yr - Slåttemusikk til alle situasjonar.
Plata er toppspelemennene Sigmund Eikås, Synnøve S. Bjørset, Gro Marie Svidal og Erlend Apneseth sitt avtrykk av slåttemusikken etter spelemenn frå heimbygda Jølster. På plata får du høyre dei fire sine personlege og sterke tolkingar av musikken som har vore med dei sidan dei lærte å spele. Kvar for seg har dei sett sitt preg på musikken - endra, utvikla og modna den. Jølster er heimbygda deira, og mykje av den musikalske inspirasjonen finn dei her. Med ulike ideal nærmar dei seg musikken på kvar sin måte og dei sterke personlegdomane er med på å farge den store variasjonsrikdomen som dei tradisjonelle slåttane byr på. Det er i solospelet nyansane kjem best fram, og det er som solistar du møter dei på plata.
- Vi utfyller kvarandre og gjev kvarandre inspirasjon, fortel initiativtakar Gro Marie Svidal. Det var ho som kom med ideen om å lage ei felles plate. Vi har i dei siste åra arbeidd mykje kvar for oss som solistar eller medlemmer i ulike grupper og lag. Eg fall for tanken om å kome saman i eit felles prosjekt for å streke under kvar og ein sitt uttrykk og setje det i ein større heilskap. Det synest eg vi har klart på ein framifrå måte.
- Slåttemusikken snakkar med opne kort, og kan i blant vere brutalt ærleg. Det ønskte vi å ta vare på i innspelinga. Vi gjekk inn i produksjonen med det vi står for, og let innspelingssituasjonen vere lik for alle fire. Slik fekk vi også best fram personlegdomane og eigenskapane til kvar slått. Det skaper spenning og god dramaturgi, seier Svidal. - På plata finn du alt frå den gamle slageren Bensen til nykomponerte hits. Det er musikk som høver til ulike situasjonar og stemningar, seier Svidal.
Sigmund Eikås er nestoren blant dei fire. I tillegg til å vere ein velrenommert læremeister for fleire av dei fremste spelemennene på Vestlandet, er han ein av landet sine fremste dansespelemenn. Han er ein av få spelemenn som held på ein eldre tonalitet som han også tek med seg inn i dei nye slåttekomposisjonane sine. Eikås har bak seg ei rekke teateroppsettingar, konsertar og turnear i inn og utland. Med musikken sin har han medverka på over 17 utgjevingar i inn og utland, og soloplata "Jølstring" frå 1994 blei nominert til Spelemannsprisen. Sigmund Eikås er elitespelemann på hardingfele sidan 1971 og arbeider i dag som fylkesmusikar i Sogn og Fjordane.
Synnøve S. Bjørset er av landet sine fremste profesjonelle folkemusikarar med utdanning frå Norges musikkhøgskole. Ho har ei rekke CD-produksjonar bak seg, både solo og samspel og er medlem av gruppene Majorstuen og Dei beste damene. Solo plata hennar "Slåttar" frå 2009 blei nominert til Spelemannsprisen. Bjørset har medverka i fleire teateroppsettingar og har mellom anna hatt stipend frå Statens Kunstnarstipend. I dag arbeider ho som musikar, produsent og fylkesmusikar i Song og Fjordane og turnerer verda rund med musikken sin. Bjørset er elitespelemann på hardingfele sidan 2002 med solide plasseringar på lokale og nasjonale tevlingar.
Gro Marie Svidal er ein allsidig profesjonell musikar og skodespelar med utdanning frå Ole Bull akademiet og Norges musikkhøgskole. Hausten 2010 tok ho master i folkemusikkformidling ved Norges musikkhøgskole med vekt på den munnlege kommentaren si rolle i hardingfelekonserten. Ho er elitespelemann på hardingfele sidan 2000 med mellom anna 2. plass i NM for folkemusikk frå 2009 samt ei rekke sigrar på lokale og regionale tevlingar. Svidal medverkar i fleire teaterproduksjonar og samarbeider mellom anna med jazzbassist Bjørn Kjellemyr og glasduoen Draup. Svidal har medverka på fleire utgjevingar og debutplata hennar "Hardingfele" frå 2009 blei nominert til Folkelarmprisen. I dag arbeider Svidal som musikar, produsent og prosjektleiar og turnerer i inn og utland.
Erlend Apneseth er ei framstormande stjerne på folkemusikkhimmelen som i dag studerer folkemusikk ved Ole Bull akademiet og går i lære hos storspelaren Håkon Høgemo. Apneseth har vunne ei rekke prisar og stipend for musikken sin, mellom anna FURORE-stipendet og publikumsprisen under Sparebanken Sogn og Fjordane si kultursatsing i 2010, og Audhild Flaktveit Moxnes sin minnepris. Han har sigrar i yngste klasse frå både lokale, regionale og landsdekkande tevlingar og var i 2010 ein av tre norske deltakarar i Førdefestivalen sitt store Talentprosjekt.
Four fiddlers present their personal renditions of traditional tunes from Jølster, 2012 style
On this record, four fiddlers present their personal renditions of traditional tunes from Jølster, 2012 style. These tunes have been with us ever since we learned to play, and we have all added our personal touches, changing, developing and maturing them. Jølster is our native district and the source of much of our musical inspiration. We each have our own ideals and approach the music from our own perspectives, strong personalities adding to the wealth of variation inherent in the traditional tunes. Solo playing brings out every nuance, and it is in a solo context that we appear on this record.
1. Skreddarhusen, springar (Synnøve) Skreddarhusen, the legendary fiddler Andreas Egge from Sandalen in Jølster, recorded this springar for traditional music collector Arne Bjørndal in 1955. Judging from his recordings, he enjoyed playing in a rough, wild style with heavy stomping and cheeky quavers. This is precisely what inspired me to take up this particular tune, otherwise widely known and frequently played in a rather mellower version fashioned by Ole O. Viken (1848–1926) from Skei.
2. Larstunen, springar (Gro Marie) Sigmund Eikås (b. 1947) lives at Larstunet, Eikås, overlooking the river Jølstra, which runs from Jølstravatnet to the Førde fjord. The tune is named after his home. Listening to this tune, I can sometimes sense the motion of the river snaking its way down towards the fjord.
3. Bridal tune after Knut L. Sandal (Erlend) A mighty tune. Knut L. Sandal (1913–1964) recorded it for Arne Bjørndal in the mid-1950s. The form and style of my version is heavily inspired by his recording.
4. Springar after Anders Viken (Sigmund) When I bought a tape recorder in 1960, this was the first springar I picked up. The tape recorder was a major improvement from the handcranked gramophone that had been my tutor until then. Anders Viken (1898–1977) played this tune on the radio show Folkemusikkhalvtimen in 1961. He got it from his father, Ole O. Viken (1848–1926) .
5. Springar after Ole Viken (Sigmund) Ole O. Viken was a farmer, teacher and fiddler who competed several times in the championships in Bergen around 1900. This tune is built around a single set of strokes, an unusual
feature.
6. Halling after Bensen (Gro Marie) A tune after Johannes Nedrebø (1854–1934) from Ålhus. He was also known as Bensen.
7. Danse-Mari, springar (Gro Marie) The first time I heard this tune, I was struck by the excellent dance rhythm. The composer himself, Sigmund Eikås, was playing, and I remember the sensation of flying across the dance
floor. Since then, the tune has come to me on various occasions, mostly when playing at dances.
8. Stillelåt after Knut Ripe (Erlend) Arne Bjørndal has this to say about Jølster's stillelåt tradition: 'Stillelåt was a form of halling played in the bridal loft while dressing the bride. The women would sit still as if in church, frequently
wiping a tear or two.' This tune differs slightly from most of the Jølster heritage in that it is in a minor key and invites a loose rhythmic interpretation. That is my opinion, anyway. The tune exists in a tape recording by Anders Viken,
who got it from his father, Ole O. Viken.
9. Springar after Bensen (Erlend) In my opinion, this is one of the finest springar tunes from Jølster, simple in melody and structure, but full of substance. Arne Bjørndal transcribed it from Johannes Nedrebø. Since then,
it has been developed by Sigmund Eikås.
10. Halling after Ole Viken (Sigmund) Ola Ryssdal (1872–1963), Sandane, transcribed several tunes after Ole O. Viken. His transcriptions were discovered in the University Library in the 1980s, at which time most of the tunes
were unknown. This is one of them.
11. Bensen, springar (Synnøve) This tune is Jølster's all-time greatest hit, used and abused at championships and concerts for as long as I can remember. Sigmund Eikås has fashioned it based on a transcript after Johannes
Nedrebø from Ålhus.
12. Vikenspringar (Synnøve) This springar has had me laughing more than once. It's a stubborn tune that twists and turns in unexpected directions, and I can't help but smile when I'm playing it. It was transcribed after
Ole O. Viken.
13. Udelt springar (Gro Marie) There's something delightful about those old, warped springar tunes that can't seem to decide whether the meter has two or three beats. Musicologists have a hard time trying to transcribe them. I find them engaging and inspiring, and enjoy playing around with the rhythm. Anders Viken recorded this tune after his father, Ole O. Viken.
14. Springar after Sigfred Øvrebø (Sigmund) Sigfred Øvrebø (1914–1985) was a farmer and played the organ in the church at Ålhus. Although he knew a huge number of tunes, he didn't spend much time playing the fiddle. All
the same, he wanted the material to survive, and we were able to record every tune he knew.
15. Sølja, bridal tune/rull (Sigmund) I made this tune in 2002. I find naming the tunes harder than writing them, so to start with, this one had no name. Hearing me play it, Eva Kristin Svidal described it as 'nice and shiny'. 'I'll
call it Sølja, then,' I said.
16. Øvrebøspringar (Gro Marie) This is one of my favourite springar tunes, calling up colours and moods one can easily lose oneself in. The tune is after Sigfred Øvrebø from Ålhus.
17. Halling by Sigmund Eikås (Erlend) In my opinion, this is one of the very best halling tunes. It is quite demanding, but has a heavy rhythmic drive that makes it hard to stop playing it once you've started. I'm happy to include it on the record, partly because it showcases Sigmund Eikås' skills as a composer, and
partly because it's an opportunity to present a little-known tune.
18. Bridal tune (Synnøve) Bridal tunes from Jølster have their own unique style, slightly melancholy and solemn. Sometimes, it's as if time stands still. This tune was transcribed after Ole O. Viken